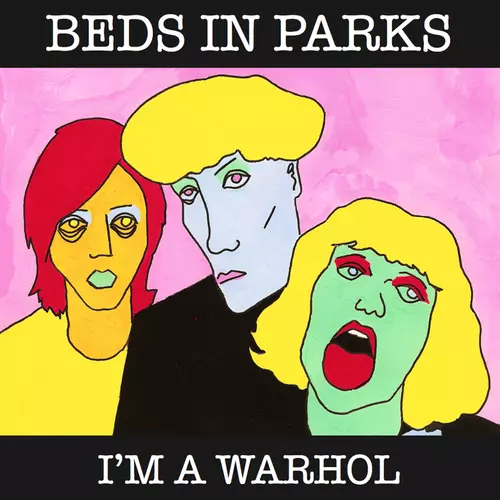 I'm a Warhol / Dinner Lady
Available Formats
Tracks
Price
Buy
7" Vinyl Single
2 tracks

£

4.99

Out of stock
Description
Beds In Parks, Cabbage - I'm a Warhol / Dinner Lady
Beds In Parks started as a two piece with Finn and Joanna's shared love of The Velvet Underground and The Jesus and Mary Chain - they both had history with Finn swapping the drumming duties in. Hatcham Social for guitar and sharing vocal duties with Joanna Curwood, formerly of The History of Apple Pie. The results bring to mind Belly, maybe some Mazzy Star with a definite hint of Vaselines. But they mainly sound like Beds In Parks

Cabbage - the Manchester based 5-piece serve up an idiosyncratic, satirical attack in the form of discordant neo post punk. The band are a group of young males who have fallen into solitary, half-mad grooves of life and given up trying to be normal or decent. With a collective desire to express themselves creatively, artistically, and in a semi rebellious - but ultimately meaningful nature - Cabbage are here to fight for all that's pure. Oliver Rodrigues in 1825 said: "The power of the arts is indeed the most immediate and fastest way to social, political and economic reform," and Cabbage join and submerge in that struggle and inevitable victory.
Reviews
Tim Burgess declared them the coolest band he's seen in years. I'm a Warhol speeds along and makes itself at home for a burst of a sub four minute beauty that has an updated C86 thing going on somewhere.
Tracklisting
7" Vinyl Single (OGEN59)
I'm A Warhol

Dinner Lady